At twelve and a half Sophie was diagnosed with invasive adenocarcinoma in her mammary glands. The veterinary surgeon regretted to tell me that it was terminal and that she may have 3 to 6 months to live. I listened in disbelief, because till recently Sophie seemed exceptionally fit and healthy, but the vet assured me that the lab result was correct. Sophie lived her life to the full for four more years. She was euthanized at sixteen and a half in July 2007 to spare her from a reducing quality of life in her old age.
This is the last photo of her taken 11.4.2007. Sophie was not just an extremely intelligent dog; she was also capable of a degree of love which humans do not often get to see. I could not have repaid her for the love and joy she gave me.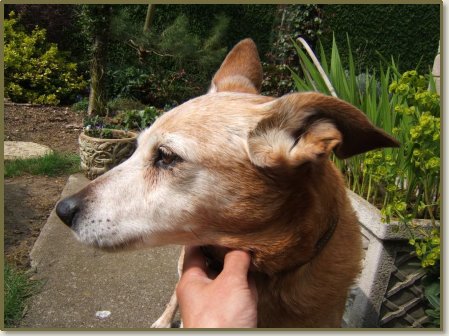 Sophie's story had been published on the internet in English since 2006, when she was 15, two and a half years after her diagnosis of terminal cancer:
The average life expectancy of a dog in the UK is around thirteen years. At twelve and a half, Sophie was diagnosed with fast spreading adenocarcinoma considered terminal. Not even when she became fifteen, did any of our six considerably younger canines, some of whom were bigger than Sophie, and that included two males, think of disputing her as the supreme leader of the pack. This is her story, as first written in 2006:
Meeting Sophie
Fifteen years ago, shortly after we moved to Prestbury in Cheltenham, an advertisement in the local free paper's Pet Section kept on appearing. A five-month-old female dog was looking for a home. After seeing the same advert for the third week running, I felt compelled to respond. We already had two dogs, but fearing that an unwanted canine may be put down, I decided to offer her our home as the last resort in case no one else would want her. The little dog just found a new home on the day my offer arrived, and I was pleased.
Four weeks later, there was another phone call from the family who rescued her and was trying to find a permanent home for her. The little dog had been dumped back into their garden whilst the family was on a Sunday trip in Weston Super-Mare, and a note was left stating that the dog was "not up to standard". The family lived in a small house in Evesham. They already had three large dogs, two small children, and a third baby was on the way. They could not cope with another dog, especially not with one as boisterous as this young lady. The good people assured me that she was perfectly house-trained and was not destructive at all. How could I have said "No"? We went to collect her.
When we arrived at the family's home, the four dogs were squabbling over a bone. The dog I came to collect paid us no attention; she just managed to seize the bone for herself. I was amazed to see her. Unbelievably, she looked almost identical to my first dog Riki, when he was a puppy. Riki was over eighteen when I lost him one year ago. I went to stroke the little lady, and she went for my hand. She thought I was after her bone, and she was going to keep it! I instantly knew she was my dog! She looked lovable and had courage and great personality, just like Riki had.
In the car on our fourteen mile journey home, the little dog turned into an untameable monster, jumping up and down like a monkey – while repeatedly vomiting all over the mercifully washable, seats. The next day she came into season and the first time I left her at home unattended, she managed to turn a staircase runner carpet into "noodles" with "confetti". When I was not in the house, she would pee over sacks of clothes still unpacked from our move. I became more and more convinced that the canine was a genius, and I named her "Sophie", derived from "wisdom" in Greek.
With her long legs and nimble body, Sophie soon learned to leap straight into my arms, and holding on to my shoulders, she would look down at other dogs, to make sure they see who the one "at the top" was. Sophie became an undisputed queen amongst dogs, at home and in the park, and she still commanded due respect from other canines fourteen years on. Sophie and I went grey, and I loved her even more, as she got older. At night we shared a pillow while Sophie stretched her body along mine. Her behaviour was becoming more human all the time.
Sophie's illness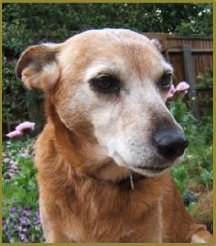 When Sophie was twelve and a half, in July 2003, I noticed swollen lumps on her under-belly, and my heart sank when the biopsy report by Abbey Veterinary Services said the lumps were adenocarcinoma which extended into the margins, meaning that it was a fast growing malignant cancer the vet could only part remove, while the spread into other parts of the body was already considered a strong possibility. The vet compared this type of a cancer to spider webs invading the surrounding tissue. The report spelt a fast approaching death sentence for Sophie! She was given only 3-6 months to live.
The cancer will have been developing for some time before it has shown, and in a way, I was glad I was not made aware it was coming. Neither would I have had the strength to put Sophie through the treatment Lysseus identified was necessary, without having seen the tumours, and the vet effectively telling me that they are going to "eat" Sophie.
My Spirit Guide Lysseus sees every molecule in a body, and he is able to specify any substance needed for correction. When the cancer broke out, I had Dhaxem for over a year, and so far we were getting Sophie fit and strong. A vet made me aware of a developing heart weakness and there had been a hint of arthritis, too, but by January 2006, the vet commented on Sophie's "exceptionally good condition" and "almost perfect lungs and heart".
But in summer of 2003, Sophie looked suddenly gaunt. Her strong muscles were disappearing from her body as I watched. The speed of her deterioration horrified me. We seemed to be running out of time. I asked Lysseus whether he would heal Sophie of the cancer, and he said "Yes". God gave me the strength to put Sophie through the ordeal of the next four months' treatment.
To succeed, even a carnivore had to be made vegan, as entirely toxin free fish would have been difficult and red meat practically impossible to find in a supermarket, or at a butcher. Fighting a malignant outbreak in the body requires an immune system as efficient as can be, and lumbering it with toxic intake via meat as "food", would have defeated the purpose.
I cooked for Sophie a diet of crushed aduki with a smaller amount of mung beans, with organic oats and rye (after meat, wheat is also unsuitable for cancer), and I gave her multiple calcium, vitamin and mineral formulas in under normal circumstances unacceptable amounts - every three hours, day and night, for the first three weeks, which then extended to every six hours for another two months. I understood from Lysseus that although new cancer cells were still being made, after this phase, the body's immune system became strong enough to reduce their numbers by about the same rate as they generated, which meant that the spread of the cancer was under control.
Further treatment over the subsequent three months allowed us to suppress the disease. Within about four months from starting the treatment, Sophie's immune system became able to render harmless all existing, as well as the developing cancer cells in her body, and Sophie's diet gradually re-introduced the purest of fish, quality sea bass, organic salmon and sea bream, because on balance, meat satisfied more fully her overall needs. Eventually, Sophie was fed on organic lamb and fish only, for protein. Pork and chicken would have supported the spread of cancer, with "easily digested" chicken (commercially produced exclusively of female birds, because they "taste" better) being the worst meat possible in any case of female cancer. Maintaining moderate amounts of calcium and other remedies over the next three years helped Sophie's body to gather the malignant cells into clearly defined pockets which were surgically removed in three stages by April 2006.
One year after she was diagnosed with terminal cancer, in the summer of 2004, Sophie was spayed. The vet was at first not at all keen to carry out the surgery on a dog Sophie's age (now thirteen and a half) and with her history of cancer. He believed that Sophie would not survive such a major operation. But Lysseus assured me that it was safe to go ahead, and that the operation was a necessity. The vet insisted on initial blood tests, and he was amazed at the results. Sophie had a nearly perfect blood result, and the surgery revealed that Sophie had a cystic ovary, and that it was indeed, important to spay her. Sophie recovered in no time from the spay and continued to gain strength at an even faster rate.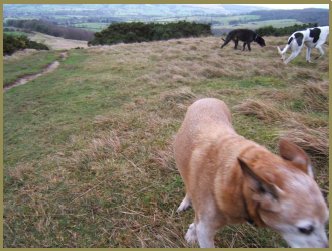 Sophie continued enjoying up to four hours of walks through the English countryside every day. She chased rabbits, and was still able to lead my younger dogs across the hills and valleys of Gloucestershire at 16. Sophie was fed only the purest organic food freshly home prepared from raw ingredients, and she was getting the best and purest vitamin and mineral supplements on the market. Her needs were monitored daily to keep her in peak condition for her age.
About two months before I had to say good bye to Sophie, she started to lose her vision. It hurt to see a dog that displayed the amount of dignity as Sophie did all her life, to be suddenly knocking into bins, and tripping over pavements, as her night-sight went completely in a matter of days. Lysseus made sure I understood that her time had come, and Sophie was put to sleep in my arms in July 2007.
Sophie's Soul was eager to grow. I helped her to get as far as she could while she was my dog, and until she became ready to continue elsewhere. Sophie has always shown a keen interest in everything around her, and she mimicked human behaviour as far as being inside a dog's body allowed her to. In time, even her bossy behaviour towards other dogs gave way to gentler, even considerate expression. Every human that Sophie knew received a warm greeting from her at every occasion they met. She became known for her affectionate behaviour, and she got affection back. Sophie seemed startled when her greeting was met with an unfriendly shouting and the extending of long items in her direction by people who do not like dogs, or those, who do not tolerate another dog coming close to theirs.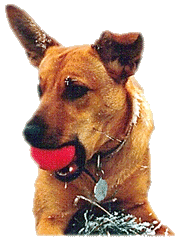 "Fate"
The Universe identified me as Sophie's most appropriate human companion, and in healing her, we were given more time together, to use it to her advantage. I enjoyed acting towards Sophie as if she were a child, because she responded as if she was one, and it was fun! Sophie's Soul was becoming human, and it showed in the way she behaved. She even learned to smile! Right is a winter picture of a young Sophie in 1993.
A massive Soul bond can be the consequence of an already existing connection. Lysseus helped me to grasp the link. Before becoming the smart dog that she had been, Sophie was a smart wolf who ate my chickens. I killed the wolf and regretted the action when passing over and seeing the anguish I had caused him while hunting him down. I pledged to advance his Soul to the next stage and to love him unconditionally - and I met him in guise of Sophie.
At the point when a mammal of any kind (usually a horse, dog, cattle, donkey, goat, or a dolphin) becomes capable of loving a human selflessly, its Soul starts gaining human attributes, and if there is a bond between the animal and a human, the animal may want to follow the human Soul, and may even aim at a similar level of attainment. The human Soul may help and guide it. In that manner developing Souls become the children of more advanced Souls, and they bond forever.